Outdoor Solutions With 2CM Porcelain Pavers
If you are looking to create sophisticated outdoor areas that demand outstanding technical performance, then 2CM porcelain pavers are the product for you.
Designed specifically for the outdoors, 2CM porcelain pavers are incredibly versatile and durable. It brings all the aesthetic and technological benefits of interior porcelain flooring to your exterior landscape areas. If you are contemplating an outdoor project, from a small residential patio or driveway, to a large public walkway, take a moment to learn more about this innovative architectural product.
To browse our range of 2CM porcelain pavers please click here.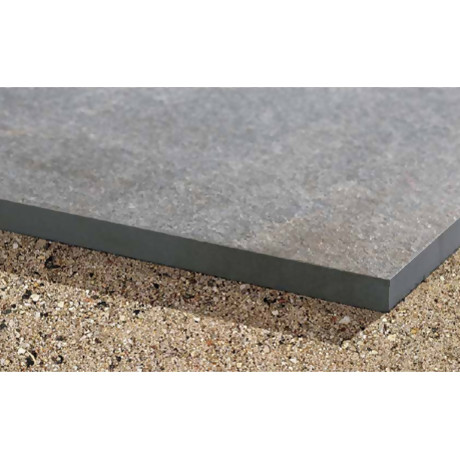 What are 2CM porcelain pavers?
2CM porcelain pavers are designed specifically for the outdoors, as the name suggest they are 2CM thick. They are waterpoof, resistant to stains, salt, frost and temperature changes. They are also mould and chemical resistant and have a high tensile strength. They are impervious to the effects of weathering, remaining colourfast and unvaried over time. They offer all the aesthetic benefits of interior porcelain flooring whilst being highly anti-slip and easy to install, clean and enjoy. Unlike traditional paving products (Concrete and natural stone) they dont require sealing or regular cleaning.
Why Choose Porcelain Stoneware For Your Outdoor Areas?
Porcelain is arguably the most durable flooring surface in existence. Incredibly hardwearing and very low maintenance. Modern manufacturing technologies mean there is a virtually limitless array of designs, colours, shapes and sizes possible for interior areas and now this technology is moving into exterior spaces. The development of 2CM porcelain pavers significantly increases the design options for external areas beyond the humble concrete and stone pavers and really blurs the lines between indoor and outdoor living areas.
1. Versatility
Traditional porcelain floor tiles range from 7-12mm in thickness and much of their breaking strength is derived from being adhered to a robust surface such as a screed. The advent of a 20mm thickness allows these tiles to be dry laid onto grass, gravel or sand, like traditional concrete and stone landscape pavers. They can also be installed with adhesives and onto elevated deck jacks; which is ideal where access to waterproofing membranes and conduits needs to be maintained. Such versatility ensures that whatever the surface to be laid on, there is a laying system to suit.
2. Residential and Commercial areas.
Incredibly hard wearing and with an anti-slip finish they can be used on a project of any scale, from residential to commercial and public spaces. They are suitable for any residential exterior area including balconies, terraces, garden walkways, pool surrounds, driveways and carports.
Commercial and public spaces can include alfresco restaurant areas, shopping malls, pavements and walkways, urban open spaces and squares. Their superior high tensile strength also makes them suitable for vehicle access ways and ramps, however they must be adhered onto a screed in these areas.
3. Durable and easy to maintain.
Unlike traditional concrete and stone pavers, 20mm porcelain will never need sealing. It is also stain, chemical and thermal resistant and can be manufactured in a diverse range of designs, colours, sizes and shapes. It will never fade, is resistant to breakage and is easy to clean. It won't show signs of wear. Water blasters can't damage these!
4. Moveable.
If dry laid they can be relocated and rearranged and can even be used on a temporary basis for special events. When installed on deck jacks they are easily uplifted and replaced to enable inspection and repairs to waterproof membranes and conduits laid beneath.
5. Indoor – Outdoor Flow
Some 20mm thick porcelain products are also manufactured with a matching interior porcelain tile for those who desire a seamless flow from interior to exterior areas.
For those pavers that don't have a matching interior tile, the wide range of designs and colours available still facilitate a stylistic continuity between indoor and outdoor spaces.
----------------------------------------------------------------------------------------------------------
Installation Methods
2CM Porcelain Pavers can be installed in virtually any outdoor setting using a variety of installation methods: dry laid onto grass, gravel or sand, adhered onto slabs or with raised deck jacks.

Installation on grass.
20mm thick porcelain tiles can be laid directly onto grass. Ideally each tile needs to be laid flat with no gaps beneath it and slightly lower than the surface of the grass for ease of mowing. The ideal installation method would involve the following: 4-8mm fine gravel, trowel, soft mallet hammer
Arrange your pavers in the desired position and spacing on the grass.
Dig around the immediate outside of each paver with a spade. Remove the paver and then remove the area of lawn to a depth of 5-8cm.
Use a trowel to smooth and level out the base of the hole.
Add a layer of 4-8mm fine gravel to smooth off the underlying base and ensure greater stability for your paver. Smooth this off with a trowel.
Place your paver on top of the gravel. You want the surface of the paver to sit approximately 1cm below ground level.
Compact the grass edges using a soft mallet, flush with the paver.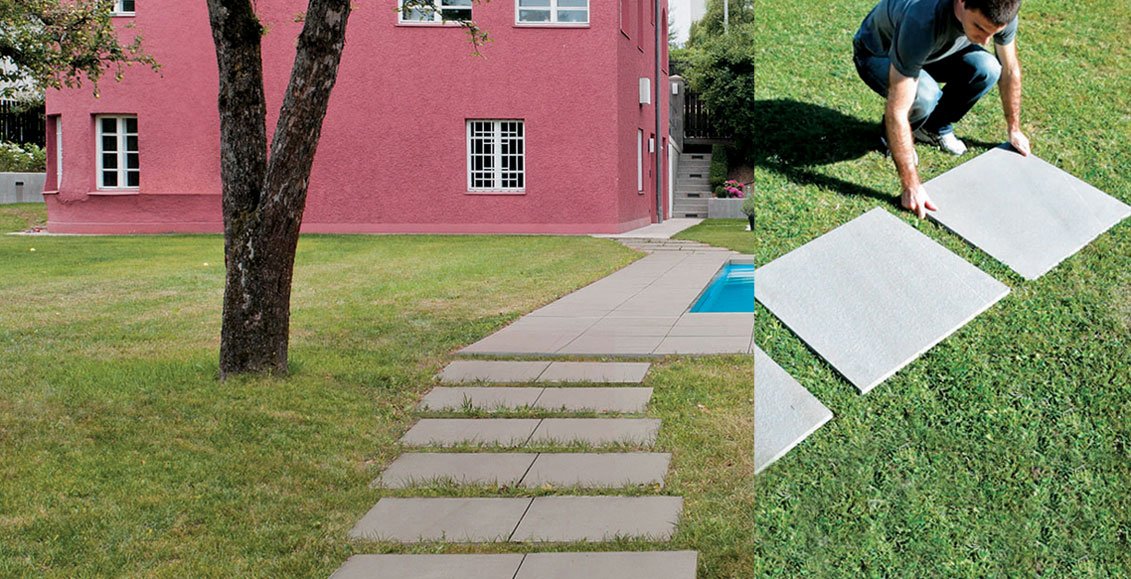 Installation onto gravel or sand
Dry installation onto gravel or sand is an excellent option where water permeability must be retained and installation of a slab is not an option. This method can be used in both private and public spaces and uses traditional landscape paving methodologies. "It is recommended that you consult with a professional landscaper or engineer to accurately calculate the thickness of the following layers according to the intended use and stressing loads."
Excavate the area to be paved and level the substrate making sure you leave at least a 2% slope across the area.
Compact the area with a compacter.
Lay a sheet of geotextile across the area.
Lay 40-80mm diameter gravel evenly across the area to a depth of 20-30cm thick.
On top of this lay a further 10-20cm thickness of fine gravel (0-20mm diameter) evenly across the area.
Compact and level, retaining a gradient of at least 2%.
A kerb must be fitted around the complete perimeter of the paving to prevent any horizontal movement. This must be concreted in place.
Lay another sheet of geotectile fabric across the area.
Add sand with a particle size of 0-2mm across the area to a depth of 2-5cm.
Compact and level, retaining that 2% gradient.
Place the pavers onto the sand and tap in place with a rubber mallet. Use spacers to get an even gap between the pavers. 4mm is recommended.
You can choose to leave the tile gaps empty or fill with sand, polymer sand or cement sand.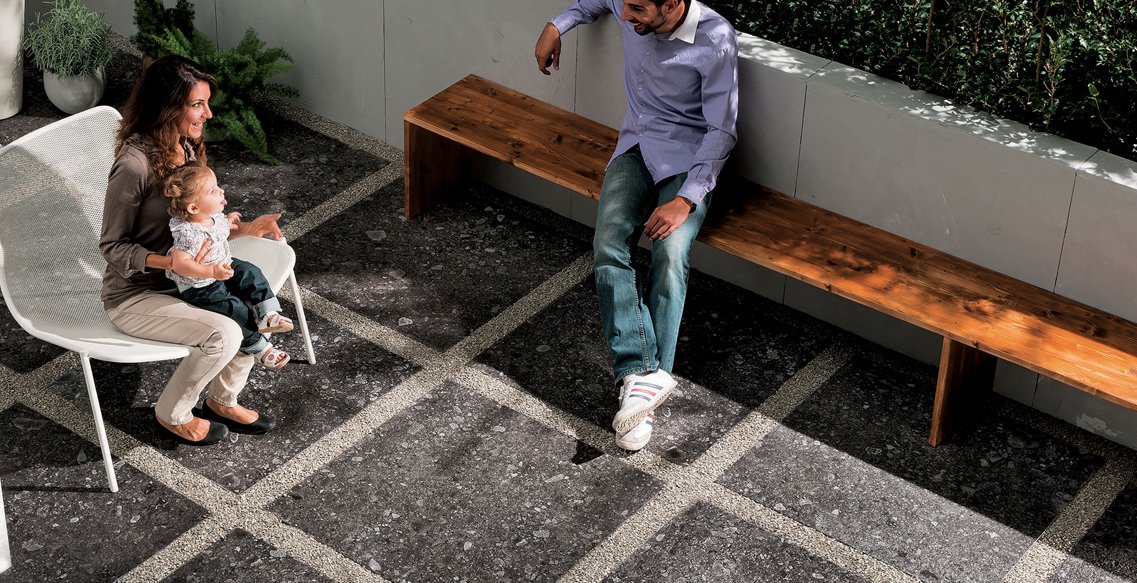 Adhered onto concrete
The ideal laying solution for outdoor driveways, car parks, garage ramps, as the laid surface is extremely resistant to both dynamic and concentratedloads. Expansion joints are required, and the gaps between the tiles must be filled with cement-based grout.

Raised floors - pedestal / deck jacks.
Council regulations now require elevated deck jack systems on any deck above ground level over existing floors / buildings. An excellent solution to this is the elevated deck jacks which allow the tiles substrate to float above the floor below and enable access to wires and plumbing / cables laid beneath at any point with ease. For more information on Pedestal instalation and to check our Versijack and Versijack Spirapaves click here.