What does the law say?
The only NZ law that specifically refers to antislip is the Building Code, and this is only in reference to Public Access ways. Public Access ways include paths, patios and decks on the approach to the main entrance of residential housing.
Other areas such as bathrooms, kitchens, balconies and decks are not covered by the Building code.
In saying this it is important customers select a tile that is suitable for purpose.
How do we know what is suitable?
The Building Code specifically nominates the Australian/New Zealand Standard AS/NZ 3661 as the level of antislip required for Public Acc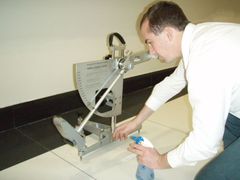 ess ways.
AS/NZ 3661 requires an antislip coefficient of 0.4 as measured by a machine called the Pendulum. The Pendulum works by swinging an arm with a rubber boot across the tile, simulating the heel of a shoe striking the floor. Five tiles are tested and an average score of 0.40 or higher must be attained.
The problem for NZ Tile Importers is that the Pendulum method of testing is not recognised internationally and manufacturers do not rate their tiles against it.
Because of the limited acceptance of the Pendulum (and debate over its accuracy) a new standard AS/NZ 4586 was introduced. This standard still includes pendulum testing although on a graduated scale rather than the in/out approach of 3661. More importantly it offers an alternative measurement called the Ramp test. Most European factories provide Ramp Test ratings for their tiles.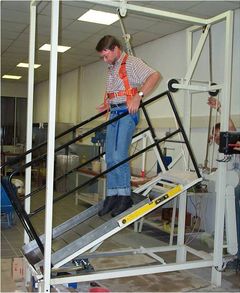 Ramp testing involves a man walking up a ramp that is gradually tilted until a point of slipping is reached. The test is normally done with shoes on although barefoot to obtain a rating for areas where pedestrians are likely to be barefooted i.e. swimming pool surrounds and changing rooms.
R Ratings go from R9 (normal matt or gloss surfaces) through to R13 for extremely antislip surfaces.
Barefoot ratings are either A, B or C
Because the Building Code has not been amended Councils still accept AS3661 standard as an (automatic) acceptable solution, but they will also accept 4586 as an Alternative Solution.
Therefore we can use both standards as a reference for determining the level of antislip appropriate to a particular area.
When specifying the slip resistance for a floor surface within a building most people in NZ and Australia will refer to Table 3 of Standards Australia Hand Book HB 197, An Introductory Guide to the Slip Resistance of Pedestrian Surface Materials. The table provides a list of locations with corresponding pendulum and ramp recommendations. While many people feel safe in the knowledge that they have specified a complying oil wet ramp slip test (R Rating), many people are still unaware of the implications of specifying solely on this slip resistance test method.

Pedestrian Flooring selection guide - minimum pendulum or ramp recommendations for specific locations

Other considerations include the amount and type of traffic expected, the product characteristics, exposure to contaminants, environmental factors, management policy and maintenance practices, OSH requirements, special provisions (i.e. handrails) and alternative information sources (warning signs).
Pendulum slip test (wet and dry)
The pendulum slip test is portable and consists of a weighted foot with a test slider that swings down and slides across the surface wetted with water. The weighted foot comprises a spring loaded rubber test slider that exerts a prescribed force over the specimen as it slides across the surface.
While there are 2 rubber slider materials that may be used, Four S (simulated standard shoe sole) is generally accepted as the material to assess the slip resistance for the general public wearing suitable footwear. TRL (Transport Research Laboratory) rubber is predominantly used for highly slip resistant and profiled surfaces. Research has indicated that TRL rubber may provide a better indication of barefoot slip resistance due to the softer yielding nature of the material, being more comparable to human skin than Four S rubber. The readings and correlating classification are shown below: