How is Abrasion Resistance Measured?
With one of these!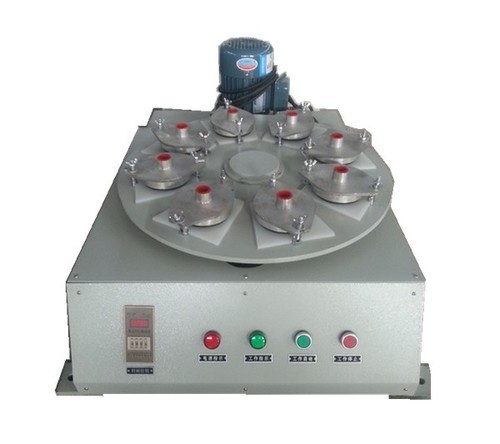 A Rotary Abrasion Resistance testing Machine. How a glazed ceramic tile surface will perform when subject to continuous wear is very important when considering selection of any floor tiles. The standard for Abrasion Resistance measures the degree to which a floor tile's surface will withstand friction such as is the case with the continual wear of foot traffic. Abrasion Resistance is determined by abrasion tests developed by the Porcelain Enamel Institute of America which has become known as the P.E.I. test.

The test involves the rotation of steel ball bearings on the surface of a tile for a given number of rotations. Wear is assessed by viewing through a special chamber. The test method currently classifies tiles at the number of revolutions at which the abrasion can be readily distinguished.

Resistance to Surface Abrasion

Rotations P.E.I. Class Usage / Traffic
100 0 Wall only
150 1 Wall only
600 2 Light residential
750/1500 3 All residential / Light commercial
2100/6000/12000 4 Heavy commercial
> 12000 5 Industrial

Class 1 tiles are suitable for wall applications only. Class 2 tiles can be used on residential interior floors, but should not be used in areas such as kitchens, entry ways and stairs that are subject to tracked in or spilled abrasives. Class 3 tiles can be used for any residential or light commercial application. The only place that they are not recommended is in heavy traffic commercial areas, like banks and restaurants. Class 4 tiles can be used for any residential and most commercial applications. These tiles are durable enough to be used in such heavy traffic areas as shopping malls. Class 5 tiles are the most durable and can be used for all residential, commercial, and even industrial applications where extreme durability is a must.

While some ceramic tiles actually tested by the Porcelain Enamel Institute labs in the United States will list a P.E.I Class rating, all ceramic tiles are tested for surface abrasion in labs around the world. The surface abrasion rotations listed equate to the P.E.I. rating as per the table above.