Wood grain porcelain tiles are one of the key emerging trends in interior design right now, capturing the beauty of natural timber and combining it with the durability and ease of maintenance of tiles.
A real, solid wood floor is something homeowners have lusted after for decades due to its sleek expensive finish and durability – but wood effect tiles can create an equally stylish look for half the price and offer even more longevity than its genuine counterpart.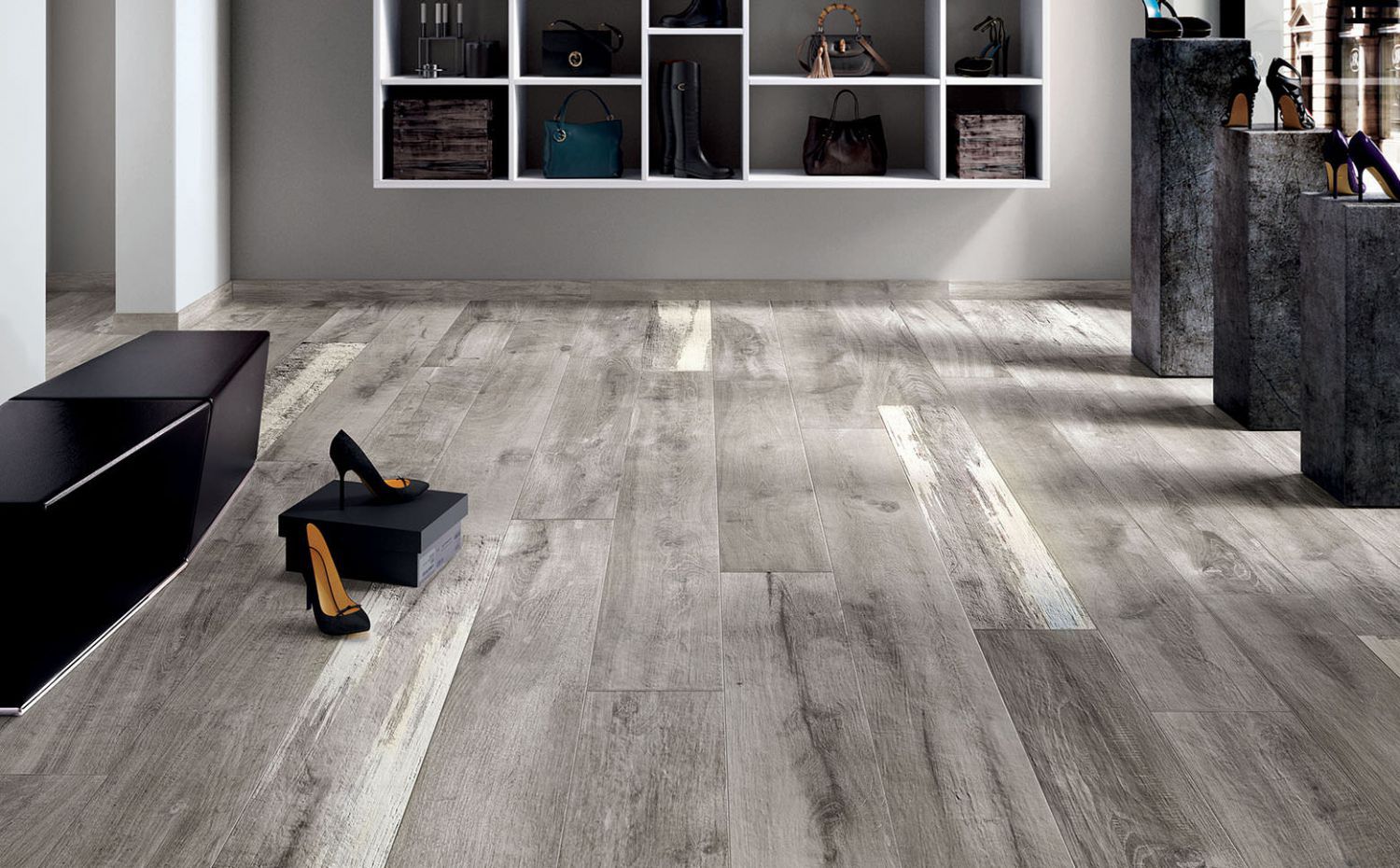 Spot the difference
Nothing adds warmth and gives a sleek finish to your home like a wooden floor. Whether you opt for deep walnut, traditional oak or rustic bleached driftwood, this classic material transcends the decades, providing a perfectly neutral, but nonetheless interesting, backdrop to showcase your design flair. While the overall finish might suit your style, the initial costs as well as the time-consuming maintenance of your new surface may not be right for your lifestyle. Thanks to the latest developments in inkjet technology, wood effect tiles now have an authentic wood grain finish, meaning there really is very little difference between these and the real deal.
Unlike some laminate options, wood effect porcelain tiles are incredibly strong, durable and low on absorbency, meaning they really stand the test of time. Additionally, they require minimal maintenance, making them ideal for busy households and high footfall areas of the home. You can also wave goodbye to cold feet as porcelain is much better than wood at retaining heat, lending itself well to use in conjunction with underfloor heating.
Rethink your floors
The latest porcelain innovations mean you can reimagine wood and introduce it into your home in new ways. Typically, the porous nature of the material makes it a no-go for wetrooms, however an on-trend Scandi-style wetroom can easily be achieved with porcelain tiles. Lay the tiles in linear planks and use a darker grey grout and silver fixtures to really offset the look.
Carrying your wood effect flooring through from a lounge or dining room to your outdoor space will not only open up your home further, but also give your abode some serious design kudos. Inject instant warmth into your room for a fraction of the cost of real wood, and running this onto a patio area or balcony will add a continental vibe to your decor, lending itself to alfresco living.